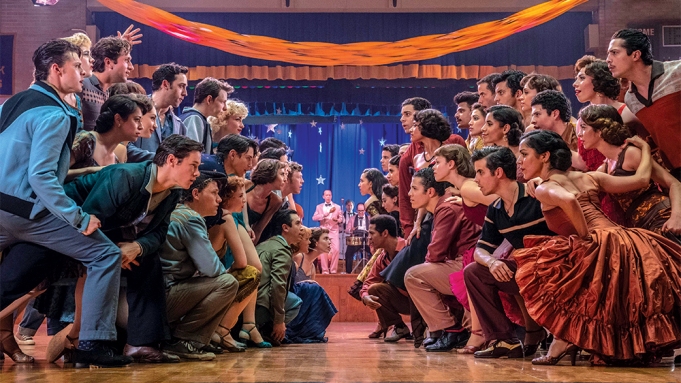 I finally got to watch Spielberg's West Side Story (available on both Disney + and HBO Max, thanks to the vagaries of streaming rights) and wow. Wow. WOW. WoW.
I am, as the parlance goes, a theater kid at heart, and yes, West Side Story is one of my favorites. The melody to America will probably be stuck in my head forever. The original 1961 movie version of the musical is also considered a classic and not to be messed with. Still, I was extremely excited to see another take on this titan of the Broadway stage. After all, theater is a living art form that gets reinterpreted and reinvented with the times. Despite some people's misgivings about another film version of WSS, I really wanted this new version to do well. As beloved as the original is, it has some glaring flaws, like the brownface. Oh that brownface. Oh and that stomach-churning thing they did to Rita Moreno, who had to endure darkening makeup so she'd match with the rest of the "Puerto Ricans" even though she herself is Puerto Rican and pointed out that they could be light skinned too.
As I mentioned, theater is a living art form, open to interpretation by more than one creative mind. We don't, after all, bemoan the fact that modern stagings of Shakespeare lack the glorious details of 16th century Elizabethan England. It's silly to think that WSS can't be touched, that it's perfect as it is. Theater touches upon the emotional threads that we as humans experience, and we will still find new things to pull away from WSS even now.
The race war between the Jets and Sharks is given needed context in the new version. We see the titular West Side of Manhattan getting gentrified, working class folks being paid off for their apartments and pushed out in favor of progress. The gangs are fighting over scraps, little pieces of turf they could still call theirs, even when in a few years, none of what they call "home" will exist and Lincoln Center (of all things) will rise in its place.
So this is the backdrop where Spielberg's version takes place. One of America's greatest film directors takes on one of America's best loved musicals and what a glorious result. I loved it. I loved the new version. I actually didn't mind Ansel Elgort's Tony, though he was the weakest out of the cast. I had expected Russell Crowe in Les Mis level of "singing" but he was pretty serviceable and held his own during the dance sequences. (There is a pall over his appearance, however, since I already knew about the sexual conduct allegations made about him.) But Rachel Zegler is a fucking delight as Maria, and I loved that "I Feel Pretty" is staged in Gimbal's, as a group of Latina custodial workers take care to clean up the spoils of rich American life. Maria, in the throes of young love, play acts at being rich and it works.
Rita Moreno. My god. Rita Moreno. She plays a new character, Valentina, created just for her, as the voice of reason and empathy and compassion. She's seen what can happen when cultures clash, and she's helpless to stop the violence from happening again but she'll still be there to help pick up the pieces. I loved her.
Another interesting add-on to the 2021 film is the re-framing of the character Anybodys. Once a tomboy who is dismissed by the rest of the Jets for being a girl who wants to be one of the boys, he's now most definitely trans. He's still an outsider who wants to be a part of the gang, but that need echoes a wider need for him to be accepted for who he is. He and Valentina serve as the moral compasses of the piece, even as emotions bubble over and there's the inevitable deaths.
But, I love the entire cast, mostly because of the authentic casting. Ariana DeBose is an electric Anita, and probably the best actor out of the lot, as she juggles her wants of a better life for herself and her loved ones even as racists threaten to take all of that away. What I find most interesting is that because Spielberg cast the movie authentically (with actual Latino actors playing the Puerto Ricans), he's lent his movie a timelessness that the original '61 version lacks with its brownface. I also adore that the Latino characters slip in and out between English and Spanish so effortlessly (and no subtitles needed, I think. Audiences get the gist.). It also lends to the authenticity and timelessness.
So yes, Spielberg's West Side Story is a welcome and wonderful addition to the pantheon of great movie musicals and should be watched. Preferably multiple times.